ACE Certified | Nia Technique Second Degree Black Belt | Member of Nia Training Faculty | BA Gerontology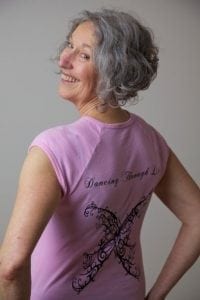 A Trainer of Nia teachers and Nia students exploring personal growth, Janet is relishing the opportunity to delve deep into all aspects of Nia and continue her personal practice of Dancing Through Life.
A certified instructor through the American Council on Exercise, Janet Hollander also holds a BA in Gerontology, specializing in Older Adult Fitness. ACE has awarded her specialty recognition in both Older Adult Fitness and Mind Body Integration. She has taught exercise classes for Lane Community College, local parks and recreation centers, and privately since 1982.
Adding Better Bones and Balance certification to her credentials, a current area of special exploration and emphasis is the correlation between Nia choreography and exercises found to be beneficial for building bone density and improving balance. "They're all there in a Nia class, and we have so much fun dancing strong!"
Janet's philosophy of exercise holds that it should be pleasurable rather than painful. She applies her knowledge of the aging process to make classes safe and beneficial for all ages and ability levels.
Janet has been dancing since her childhood. This lifelong interest has led to a varied "personal curriculum" including studies in music, modern, folk, and expressive dance, physical education, t'ai chi, judo, kiatsu (aikido) and yoga. Studying the Nia Technique of mind-body fitness with Debbie Rosas Stewart and and Carlos AyaRosas has been a natural continuation of earlier explorations.
Both personally and with students, she continues to explore many aspects of health, acknowledging the connection of our physical and emotional selves as well as our connection to our human and environmental community. We dance as one.