A colleague just announced her retirement plans over the next few years. I seem to be writing a different book about what happens in the last 3rd of my life. Inspired years ago by gerontologist and futurist Ken Dychtwald 
http://agewave.com/
, I see life stages as cycles rather than  linear. And somehow it felt right to me to partially retire and enter a graduate-school-type program in my mid 60s, cycling myself back through a student phase. Maintaining the elements of my life that are precious to me, like grandma-hood, my 50-year loving partnership with the amazing Bob Hollander, my longevity with a retirement housing company that calls itself "Life Minded" (TM) and practices what it advertises  www.
willametteoaks
.com/ , my commitment to sustainability by growing at least some of the food I eat –  – all these elements weave together to create my unique business and life model.
I don't mind being a late bloomer. I find myself blooming.  There is no age limit to who may choose to sign up for a
Nia White Belt
.  My particular passion as a trainer is to emphasize how helpful
all
of the White Belt Principles lend to improving life, especially through the aging process. You may have had a clear guiding principle or goal at an earlier phase of you your life and find that it needs polishing up, or even replacing. The 7 days of commitment to your own growth is true investment. It can be be done
over several weeks
, or all in
one week as a retreat
.
When I signed up for my very first Nia training experience, I personally questioned whether it made financial sense to spend that kind of money on education so late in my life. Hee hee… that was over 20 years ago. I'm so immensely grateful that I made the investment in myself, in who I am becoming. My life is so much better for it.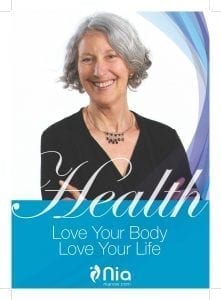 That investment has also allowed me to provide an elevated level of service to many other people. I can offer skills, outlook and a process for improving body comfort whenever you are moving, for exercise, leisure or work. What an awesome gift to be able to share. I'm really offering how to build sustainability in the body. What it takes to keep going with pleasure… for the rest of your life! You could
become a certified Nia Instructor
, too. Or study for your own peace of  body and mind.
I continue a sense of awe and honor to find myself among the Nia faculty. The invitation to be a scientist researching positive sensations is a life practice. Sure, sometimes I feel like I sink a little in my awareness, and then the brilliance of Nia lifestyle helps keep me afloat.